For some of us, writing is a breeze. Our plots practically create themselves, and our characters come to us with clear motivations all on their own. Then after that, the story flows effortlessly onto the page. Frankly, I'm not in that category of writers, and I think it's safe to say that most of us aren't. Writing is a hobby, a job, or a passion for each of us, and at some point it's going to be a struggle.

There are so many ways to get stuck while writing. What can you do if it happens to you? It can be so hard to push through these points, when our ideas stagnate and we can start to feel a loss of our original infatuation with the project. Too often we try to solve our story problems by staring them in the face, hoping if we push against the wall long enough it will eventually turn into a door. But sometimes, it's better to try a more roundabout approach, looking for solutions in places that aren't so direct. One of the places we can find those solutions is in our characters. The stronger our characters are, the more they can help us get unstuck in our writing and move forward.

It might not make sense at first to think that having stronger characters can mend a myriad of issues, but let's look into it a bit: If your character is too flat, they won't do much for your story, and they might end up being the reason you get stuck a lot of the time. On the other hand, the more you learn and know about your character, they can push many parts of the story forward and give you a solid plot, as well as illuminate information you may not have known you were missing, like setting details or realistic interactions.

So, now that we're thinking about how knowing our characters better can improve even things that don't seem to have anything to do with them, how can we get to know them well enough for them to help us out? You can always start by taking personality tests for them on Facebook, but those will only get you so far. You have to dig deeper!
Powered by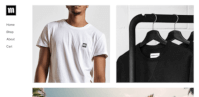 Create your own unique website with customizable templates.