The cover for Shattered Snow has finally arrived! Last week, I held a facebook live event on my facebook

author page

revealing this beautiful piece of art by Ashley Literski. I can't believe that in just a few short weeks I'll be able to hold this book in my hands! Everything comes at me so quickly these days, (pre-sale starts this week) and the learning curve is steeper than ever. Immortal Works has been an amazing publisher, and I've appreciated every step of this journey with them.

Handing over the concept to a graphic designer and seeing her visually interpret my story is amazing. Ashley asked about my characters, common visual themes, preferences, etc. She took everything I gave her and compiled it into this beautiful cover that subtly represents all three of my POV characters. It's the kind of thing I expect people to turn back after the story and go "ooooh! It's even more meaningful now!". She did a wonderful job.

Next, I am working with the illustrator for interior art that is absolutely breathtaking. While I can't show you it yet---I can show you some of her concept art...

I wrote my first children's play in high school. It was about a little boy who found a watermelon and imagined it was a dinosaur egg. A nosy neighbor girl insisted it was a 'plain ol' melon' which caused the boy to doubt his sense of imagination. In a final climax, the two fought over the fruit and in the scuffle lost control as it rolled down a hill. The girl gave up on it, but when the boy finally found the cracked rind, he was able to find value in the 'ruined' melon by imagining the dinosaur inside had hatched and he resumed his game to find it.

My theater teacher chose my script to be performed in class. As I watched two actors portray the children, I realized the magic of script writing. The actors enhanced my story by adding vocal inflections, movement, and props. They used my creativity as a point to jump off from and created something all their own.

Now, I'm writing a full length musical. It's a bigger task, but the rewarding memory from high school keeps me chasing the dream. I've been working on this collaborative project for over a year now and I am amazed at how often script writing skills reflect on my career as a novelist. Here are a few reasons why I think you should try writing a stage play.

We all want to write timeless prose and enveloping stories for our readers to sink into. But, beautiful writing doesn't always come naturally. It's a skill that must be sculpted and studied. During my own quest for improvement, I've gathered some treasured advice through the years. Some of it comes from my own personal observations, but a lot of it was passed down to me by people far wiser than me. I can't wait to share these ideas with you.

1: Your voice is beautiful.

"Don't forget---no one else sees the world the way you do, so no one else can tell the stories that you have to tell."

-Charles de Lint

One of the most inspiring books on finding your own voice is

If You Want to Write by Brenda Ueland

. I am so grateful I read this early on in my writing career. Ueland showed me that even if I think my perspective is too commonplace to be important, nobody else sees the world the same way I do. My hometown, my family, my way of life is completely foreign to someone else.

For me, this concept was confirmed once I became an acquisitions editor. I once received queries with incredibly similar plot lines that sounded wildly different from each other. Even if your story has already been told, it hasn't been told by you. Your voice is what makes your writing beautiful.
Powered by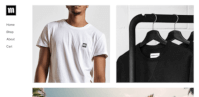 Create your own unique website with customizable templates.