If you want something, it's up to you to figure out how to get it.

This idea sounds overly simple, and yet, it took a mini life crisis at thirty for me to consider it. Up to that point, I'd been waiting for two specific things to happen before I dared even think about my dream of authoring a book. Those two things? Permission and ideal timing.

Let's back up a bit. I grew up in a home full of expectations. Some were exerted by my family, some I created on my own. Those expectations included such things as being a good daughter, a good student and a good employee. After I got married, the idea that certain expectations must be upheld pushed me into pouring all my energy into being a good mom, spouse, and housekeeper. None of these expectations were well defined. I had no way of knowing if I was doing it "good" enough. I exhausted myself with worry, thinking I'd never get it right.

A week before my thirtieth birthday I was struck with the significance of another decade of my life slipping by. My dream of becoming an author hadn't amounted to anything. The reality I had created for myself as a parent didn't include me in it anywhere. I had invented this expectation that motherhood was an endless cycle of caring for everyone else first and my dreams could wait until the timing was better, until my first baby slept through the night, until the next baby slept through the night, until they napped at the same time, until they started school, until, until, until.

​
Powered by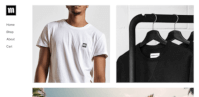 Create your own unique website with customizable templates.