I love reading. Unfortunately, I'm an embarrassingly slow reader and I don't have as much dedicated downtime as I used to. As a result, my to be read pile is dauntingly high. When I do read, though, I come across some beautiful books, and the books I read with my children have really captured my heart the last couple of years.

I love reading with them as part of our bedtime routine, to wind down after a long outing, or simply as a good way to connect with those sweet little hearts. I cannot express my gratitude for the authors that have created such heartfelt stories that allow my kids and me to learn and grow together. Surprisingly, the things I learned while reading with my children also applied to my writing!

It is no secret that self publishing is the go to route for Authors who have a creative vision not worth compromising and an unwavering determination. It requires the most hands on involvement as you are in charge of finding and paying for everything from your copy editor to your cover artist. You make the words on the page look as good as they read, and you make sure it gets into the hands of the right audience. The Greek Titan Atlas has nothing on the weight a Self Publisher carries on their shoulders.

​In 2016 self published titles and Amazon published titles were responsible for bringing in %25 of the gross income for the book industry. That same year 786,935 books were published by authors who knew that their visions could be best accomplished themselves, and %27 of the titles on Amazon's Best Sellers List belong to those authors.

Our very own

Bree Moore

joined their ranks in 2017 when she published her novel

Woven

. Inspired by Arthurian legend and Lord Alfred Tennyson's ballad, "The Lady of Shalott", Woven is an intricately told story of two women who find themselves faced with two very different curses. Elaina fights a curse that traps her forever weaving a beautiful tapestry high in a tower. Guinevere must keep from succumbing to her splintered personalities in order to circumvent the plan to kill her love, King Arthur.

Now, Woven is out for your listening pleasure on Audible, and I had the chance to chat with Bree Moore about her book, her life, and the publishing process itself.

READ THE BOOK:
​

​I'm excited to spotlight this sci-fi book that's coming out February 6th, 2018! I was lucky enough to be a beta reader for Colonial Prime and I loved it. Then, I read it again as an advance reader and loved it even more! Pre-orders for the Kindle are going on right now, so

check it out

!

Here is the pitch from Kevin's website:

"Captain Amara Corrin, hero of the late Solar Wars, commands the first colonial fleet. Full of hopeful dreamers looking for a new home, world-weary ex-soldiers, and those just seeking escape, five ships set out from Earth with the hopes of humanity behind them. But Amara soon finds herself with more trouble than she can handle. The Council, Earth's new governing body, has saddled her with their political rivals, exiling them to a place where they could do them no harm.

Struggling to find balance, Amara appoints a fresh-faced first officer with a hidden past, Nathan Esquina, and tries to figure out a way to keep her son, Jaelyn, free of the political machinations of those aboard the ship trying to destroy the rocky peace upon which they stand. When a message from Earth lets them know that the Council has fallen, Amara, Nathan, and Jaelyn land themselves in a pitched battle where a single mistake could end not only their own lives, but those of every person aboard their colonial mission.

MEET THE CHARACTERS:​
Amara Corrin

Though Amara has been hardened by war, she's never ruthless or antagonizing. She's exactly the kind of person I would want in charge of colonizing a new planet. Her competence in her professional life however, doesn't always transfer to her personal relationships. As tensions on board the ship climb, those very relationships she struggles with could become the only thing that will help her survive.

Jaelyn Corrin

13 year old Jaelyn doesn't like attention. Unfortunately, as son of the ship's captain it's hard to lay low. He spends his time hiding away in the gardens, but this ship is too small to truly escape getting sucked into the forefront of the adult's problems.

​

​

Nathan Equina

Nathan volunteered to join the colonial fleet to get away from his father. He needs a fresh start, where no one has heard of his reputation so he can figure out who he is, and what why he has such a mysterious gift for mechanics. As the distance between Earth grows, his father's problems haunt him, infecting his new haven with the exact same problems he wanted to escape from. ​
Powered by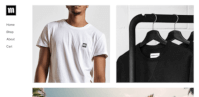 Create your own unique website with customizable templates.