This week at Writing Through Brambles, we had a genuine conversation about our interactions with others. We recognized that our greatest writing blocks come from unresolved conflict. Our genuine successes come from others building us up in ways we can't do on our own. Stories that we share with our friends and family quickly become our favorites. In essence, writing is deeply connected to our interaction with humanity.

Sometimes we think that writing is closing a door and getting a word count in for the day. Yes, that's important, but if kept sterile and solitary--- writing dies. We NEED human interaction to inspire us and propel us forward. Otherwise w

e lose our flavor for life and it shows.

Once we pass through the door of publication, it's absolutely necessary to rally others around you.

So, what kind of people do you need in your life? Who is going to help you achieve your dreams?

Here are some critical groups that I believe you should seek out as a writer.

Mothers are some of the most powerful people on the planet. They carry children within their own bodies for nine months and bring them into the world. They receive children they didn't conceive into their homes and hearts with just as much love. They sacrifice. They teach by word and example, greatly influencing those in their care.

But mothers don't often take a significant role in fiction. They sit on the sidelines, cheering on their children, and that's only if they're present in the first place. It's as though society believes that once one becomes a parent they can no longer have adventures of their own, and no end goal to achieve. That couldn't be farther from the truth. Beyond Instinct is a collection of five short stories that show how mothers still have lessons to learn and stories to tell.

Each of the authors in the anthology included aspects they have seen in mothers in their own lives, or have experienced themselves. Read their responses below!

After wrapping up NaNoWriMo, you might be sitting on a brand new 50,000 words and wondering if this counts for anything. Are you an author now? Do you get to claim that title, or do you have to wait until you've reached publication? What if you didn't complete NaNo, or if the book isn't finished at 50k, or if it's finished but pretty much SUCKS? Does that mean all your effort doesn't count at all?

On the contrary, it counts for a good deal! Whether you wrote 10k or 60k or anything at all, words are words. Especially since you need to write at least a million words before you "become" an author.

Wait, what?

A

million

words?

This concept is pretty widespread among writers, actually, as evidenced by the fact that no one can quite agree who first came up with such an arbitrary-sounding number.

You have David Eddings, fantasy author, who said:

"My advice to the young writer is likely to be unpalatable in an age of instant successes and meteoric falls. I tell the neophyte: Write a million words - the absolute best you can write, then throw it all away and bravely turn your back on what you have written. At that point, you're ready to begin."

Or, from science fiction author Jerry Pournelle:

"I'm sure it has been done with less, but you should be prepared to write and throw away a million words of finished material. By finished, I mean completed, done, ready to submit, and written as well as you know how at the time you wrote it. You may be ashamed of it later, but that's another story."

Alex Keegan is quoted earlier than the previous two as saying:

"It takes a minimum of three years' full-time study or 7-10 years of part-time study to get a university degree. Becoming a writer is harder! I think it was Ray Bradbury who said we need to write at least a million words just ot make it to the foothills. Seems like a lot? Not really. 3,000 words a day for a year or 1,000 words a day for three years and you're home free. What d'you mean it sounds tough? It IS tough!"

From Keegan's quote we get that the most likely originator of the million words concept is Ray Bradbury, who said, simply:

"Write a thousand words a day and in three years you will be a writer."

That's it. Super simple. A million of your best words and you'll be a writer. Just do NaNoWriMo 20 times and you're there.

It's intimidating, isn't it? The first time I heard this concept I almost wanted to give up, but writing was too much fun and the stories wouldn't leave me alone. So I started. I drafted a single story several times over the course of seven years, completely re-writing it more than once in the process. I did NaNoWriMo once in high school and got over 30k. I pitched the finished story a few times but saw only rejections, so I started a new work, which took me three years to write and eventually became "Woven".

In all of that writing, I calculated that I wrote just over a million words. I did it. I actually did it, and right before I published my first book. It was hard. I had a whole year in there where I hardly wrote at all. When I found my writing group, things got so much easier because of the support and accountability I had.

Do I believe you *must* write a million words before you get published? No. I don't think it's necessary for everyone. But neither do I think you should pick up the first thing you write and put it up on Amazon. I've read enough of those books to know that it does far more harm than good to your future career.

When you first publish, your author name, or pen name, becomes a brand. It's critical that the brand you establish is quality, engaging stories that are worth reading. So, for the love of every amazing book out there, please revise, please hire an editor, and PLEASE put your best foot forward! Especially in today's day of instant gratification self-publishing.

The opposite of this is also true. Please publish! Please be brave! If you have a story that you love, that you've revised and polished, that you've had others read and enjoy and that you've had professionally edited, publish it! Even if the industries you contact (agents and publishers) reject it, that doesn't mean it's not good, it's just not what they're looking for. You can build an entire career and a great income on things the industry isn't looking for, and people have done it! You have to be willing to write and edit and market your pants off, and wear hats that most traditionally published authors don't have to wear, but you'll be published. You'll have started.

The first step is the hardest, they say. In writing, that's the equivalent of finishing a first draft. But I've found that the first step of each level is also the hardest. Starting the revision is hard. Staring at a page full of critiques and edits from an editor is hard. Getting proofreads back is hard. Hitting "publish" or "send" is hard every time. Doubt and insecurity can come like a plague that keeps you from moving forward, but it's so worth it to overcome!

I've published two books and a short story (with a second short story coming out in the Beyond Instinct Anthology December 14th), I've written at least a million words, and I still suffer from Imposter Syndrome. Every time I meet or talk to another author, every time I compare what I've done to what someone else has done, every time someone gets double the wordcount I reach during NaNoWriMo or tells me they published 10 stories this year (and I *only* published three) that voice of doubt comes back.

Do you know the most effective antidote for Imposter Syndrome?

Turn your focus back to yourself and your own goals. It's all right to have a critical eye or a new perspective as you get back to work. Maybe publishing 10 books next year is the kind of reasonable goal for your life that would push you into the next level of success that you're seeking. Or maybe it's just finishing the manuscript you have and submitting queries to publishers. Wherever you are in your writing journey, it's best not to focus too long on what others are doing. It wastes valuable time that could be spent writing or editing and reaching the level of success that you're aiming for.

So, wherever you are right now, whether it's working on your first 50k or starting your next million, I just want to say this: you're an author. Claim that title now and keep working to earn it. If it makes you feel better to say you're "pre-published", say that. But claim the title! As long as you're making an effort to reach the next milestone for you, you're an author.

Have you written your first million words? What do you think of the million words concept? Comment below, I want to hear from you!

Bree Moore lives in Utah with her amazing husband and five kids. She writes fantasy novels between doling out cheerios and folding laundry. Bree has

published two dark fantasy Arthurian-legend retellings and two short stories you can find HERE. You can follow the writing journey of her upcoming Urban Fantasy series by joining her newsletter.

​​​
Powered by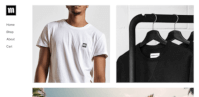 Create your own unique website with customizable templates.